Moving into your first apartment is undoubtedly exciting – it sounds fantastic to sit in your new kitchen or living room for the first time being aware that you have finally made your dream come true, and you have a place on your own to arrange it as you like. However, apart from the joy and a sense of freedom, you may also have some concerns. After all, you may not know what to buy for your first apartment! If you have always had someone to take care of it, you may be afraid that you will forget about something crucial.
To help you enjoy your new apartment instead of worrying about providing all the necessary items, we have prepared a move-in checklist with all the essentials for home arrangement. However, keep in mind that they are just the most basic things, and if you want your new home to become more sophisticated, you can always enrich it with more advanced improvements, such as those presented on https://yoursmarthomeguide.com/.
Bathroom
One of the most significant enhancements for your new bathroom is certainly a shower curtain, along with a liner and hooks necessary to mount it. You are likely to put a lot of effort into your moving process, and you will need a shower at the end of the day. Therefore, in order to keep your new apartment floor safe, you should secure it from water splashing all around.
What is more, it is worth keeping in mind that with all that unpacking, mounting, and generally moving in, accidents can easily happen. Therefore, it is an excellent idea to have a first aid kit in your bathroom from the start. It is better to be safe than sorry!
Kitchen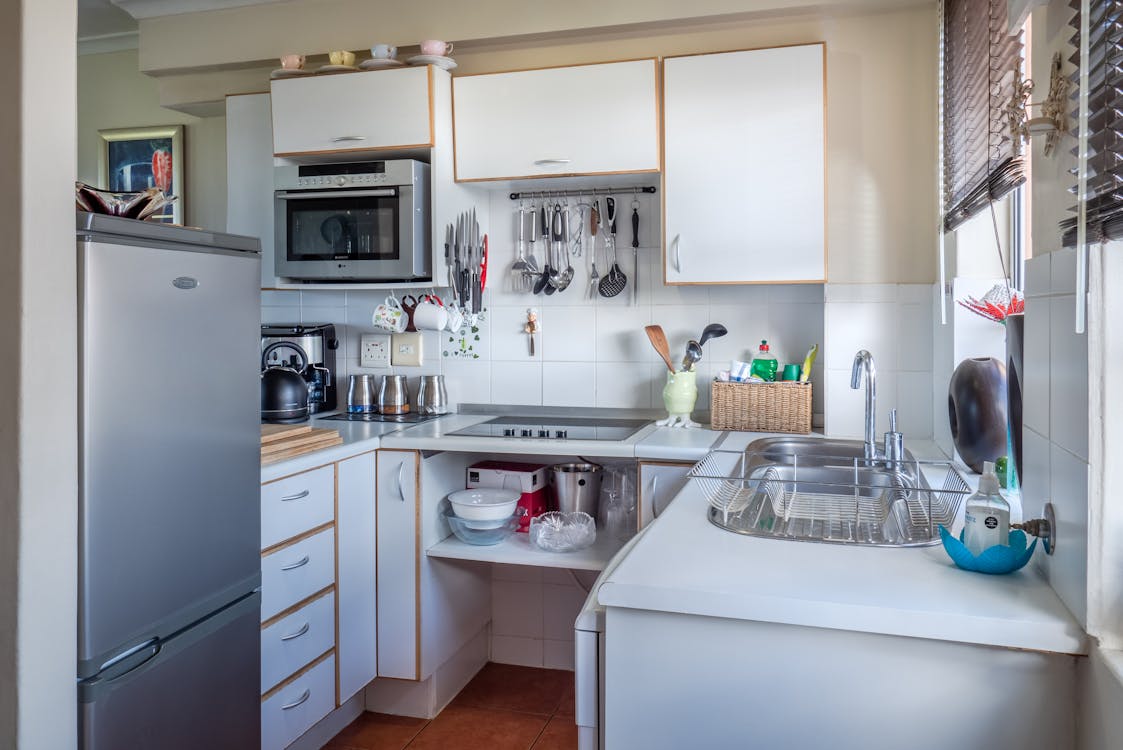 Soon after moving in, you will probably want to prepare some food in your new kitchen. It is an exhausting task after all, and you will need fuel to refill your energy! You might be tempted to use paper/plastic plates, utensils, and cups at the beginning, but there is no point in that – it will just cost you additional money and generate a lot of trash, and sooner or later, you will have to provide a full dish set. So, why not buy it at the very start?
You should remember about:
glasses
mugs
plates
forks
knives
teaspoons
tablespoons
bowls
pots and pans
cutting boards
Moreover, you may be busy and tired in the first days after moving in, so a microwave will help you to heat the already prepared meals quickly. Also, remember about filling your fridge with some groceries, of course!
Bedroom
While preparing your first apartment checklist, you may think that the only essential thing in a bedroom is a place to sleep. However, to make it a cozy and restful place from the start, it is better to include some more items, such as:
Bed frame. Theoretically, a mattress on the floor could be enough, but when you place it in a bed frame, you will certainly feel more at home.
Pillows, sheets, and blankets. You need them apart from the mattress on your bed for sure!
Full-length mirror. It is always worth checking if you look good before going out!
Window treatments. If you are not an early bird who likes to wake up with the first sunbeams, then curtains, shutters, or blinds should land on your first apartment checklist, too.
Closet storage solutions. To store your clothes or other items in your bedroom, do not forget about a hanging closet organizer, a shoe rack, or something like that.
Living Room
A living room is a perfect place to relax and spend time with your family and friends, so it is an excellent idea to take care of it from the beginning. These are the things you need in it for sure:
a comfortable couch
extra lighting
a coffee table
storage solutions
Apart from these items, you may want to provide some decorations like couch pillows, plants, or wall art, as well as a TV to watch movies on!
Additional tip: Remember that the moving-in process tends to be messy, and you can never predict what happens, so it is recommended to include basic cleaning supplies on your first apartment checklist! Make sure you have, for example, a broom, a mop and a bucket, some paper towels, and essential detergents.
Summary
Getting a new apartment is an amazing moment – you have an empty space at your disposal, and you can shape it as you want to be your real home. It is surely a fantastic idea to make a list of all the essentials you should take with you while moving in. In this way, you can easily make sure if you have everything without trying to keep it all only in your memory. You should take, for example, a set of plates and utensils, a shower curtain, necessary cleaning supplies, and something to sleep on. Good luck with arranging your new home!
Loading recommendations...