As a tenant renting a property, there are several reasons that you could miss out on getting your full deposit when you leave. To try and avoid this happening, We Buy Any House have put together some helpful reminders before you move out to make sure that you're leaving the property in the best possible condition to get your deposit back.
Repair any damage
The number one reason that landlords hold on to tenant deposits is due to damage in the property that needs to be fixed before a new tenant can move in. If you know that you've caused some damage during your time renting, you should do what you can to repair the issues.
Some problems can be too big to be handled yourself, so you can either hire someone to repair it, or a better option is to be open and honest with your landlord. By telling them that there has been some damage but that you're going to take care of it, they will likely be more forgiving and even suggest someone to do the repair, as they will probably know a lot of people in various trades. Make sure that you don't just leave the damage for your landlord to find – letting them know will keep a better relationship between you, and if you need a reference in the future you will want to be able to come back to them. Accidents happen, and landlords know this; dealing with damage is part of their role as a landlord, so be upfront with them and you'll be able to find a solution much faster and lower the risk of losing your deposit.
Take pictures
It's recommended that when you move into a rental property, you take photos of any damage that's already there to avoid the landlord thinking that you're responsible. If you're renting through an agent, they will more than likely do this to cover their backs as well as yours, but if they don't, don't be afraid to do it yourself. If you're renting directly from the landlord, they may suggest the same thing, but if they don't mention it to you make sure you do it anyway.
Go around the entire property and take photos of any scuffs, cracks, or imperfections that you can see. General wear and tear is normal while renting, but having a clear record of what the property looked like when you moved in makes sure that you're not held responsible for anything found that wasn't your fault. It's also worth taking photos on the day you move out if your landlord isn't there to give the keys over to, to ensure that if anything were to happen after you've left that you aren't blamed – especially in shared accommodation.
Deep clean
Often, landlords will hold back some of the deposit of the leaving tenant due to the state that the property has been left in, as they will need to hire a cleaner before a new tenant can move in. It's easy to miss spots when you do your final moving-out clean, so knowing where other tenants will often forget can remind you to do these and reduce the risk of your deposit being withheld.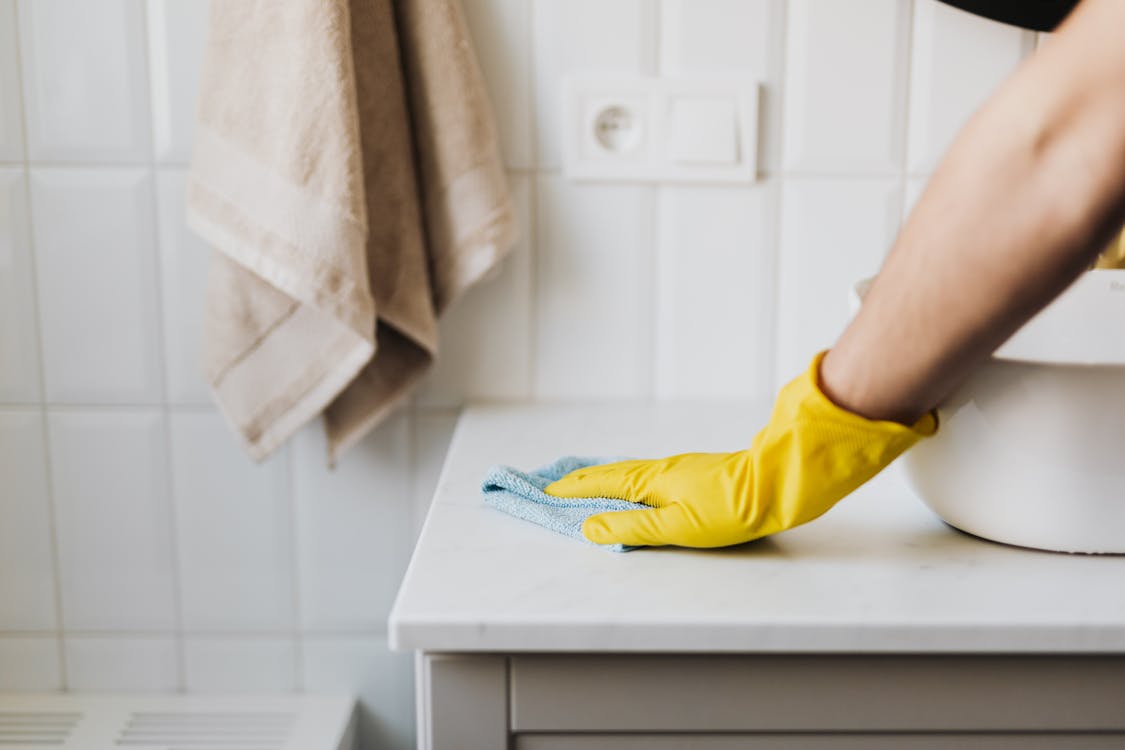 Always make sure that you've cleaned the oven inside and out, as this will be somewhere your landlord will check straight away and can be the most expensive thing to have cleaned professionally. Get hold of an oven cleaner, clean it yourself as it's a really easy job, saving you a lot of money! Also make sure that if there are white goods in the house that you've cleaned these out, as they will often get forgotten about and will start to smell once you've moved out, drawing attention to the fact that they haven't been cleaned. Don't forget to wipe round skirting boards too, especially if the property is unfurnished, as dust will collect here and be very obvious if it gets missed.
Ask your landlord
If you've moved out of your rental property and have been waiting for a few weeks with no sign of your deposit coming back, reach out to your landlord and ask them. Often, they've got a lot of other things to be doing and so it may have slipped their mind, so a quick refresh will get them back on track to refund the deposit if there are no problems.
By asking your landlord directly, you are also able to find out if there are any issues and what they are. When a landlord withholds a deposit, they need to state what the reasoning is as well as a breakdown of the costs on their end to justify the amount that they're holding from you. If you feel for any reason that your landlord is incorrectly holding your deposit, you can request to see their breakdown of costs and find out what's causing a problem. If you think that your landlord is unfairly holding your deposit, you can appeal for this to be investigated.
While it isn't common, remember that a landlord can hold onto your deposit for other reasons, for example, if you missed rental payments or left the property in a debt with utility bills if this was in the contract as your responsibility to pay.
Making sure that you follow these steps will help you get your full deposit back and allow you to leave the tenancy on good terms with your landlord.
Loading recommendations...